Get our free guide to designing slides for awesome presentations
Learn how the successful presenters do it. Good slide design will give your message real impact. You can create outstanding results, even if you've never designed a slide before.
In this stunning 16-page guide you'll learn how to:
Design beautiful slides without mutilating your company's graphic profile
Follow 5 key rules so all slides will be good slides
Replace boring bulleted lists with unique eye-catching design
To get your free guide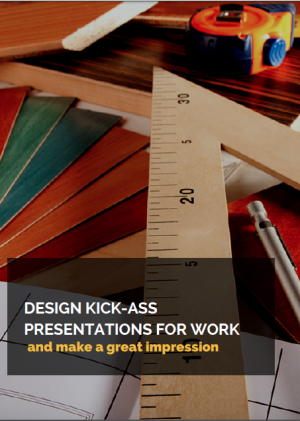 A really great introduction to slide presentation.  I thought this was great – not too text heavy and nicely presented. The language is informal and engaging – 'look good in front of your boss' really captured my attention. I like the approach – it's more 'relevant'.
The 'five things you should never forget' page at the beginning genuinely had some really great points and ones I've not come across before or thought of. The added links to sites are great (Gratisography is incredible) and makes me want to read on – I didn't want to skim read in case I missed anything.
Emily Avgherinou
If you need to make a pitch that's critical for your sales or business, or you just want to look good in front of your boss, this is the stuff for you.
Get it now!