Most presentations go wrong before they're even started!
Your thought processes and planning when you start making a new presentation can be your worst enemy.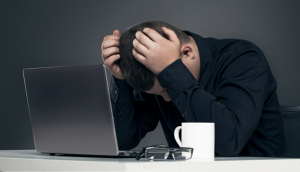 Your material starts to live its own life and you spend way too much time struggling to organize your thoughts.
If you find yourself constantly battling with planning your presentations, if you often have way too much material, and the content is a little unstructured (which doesn't help your nerves), then read on.
It's perfectly possible to start off on the right track and set yourself up for a structured and clear presentation that your audience will truly appreciate
There are three key questions to answer before you start to make slides
The answers will support you in every step of preparation and practice.
So let's get started! This could revolutionize your presentation-making process.
We have to start in the right place – at the end
You need to decide where you're going with your presentation. So grab a blank sheet of paper and a pen.
The time you spend on this will pay back oodles further down the line. You'll need to do a bit of thinking
After you've completed this stage, your presentation should have focus and direction. It ought to become much easier to decide what to include and what to focus on. A whole lot of stuff may begin to fall into place very nicely.
First of all – what's the purpose of your presentation?
Why are you giving this presentation? Think of it like this: what can you achieve by holding a presentation that you can't easily achieve with a written document? Or maybe there's something that only you can bring to this subject. What is that?
Is it to explain a subject that you are an expert on? Is it to motivate your audience, or inspire them? Is your true purpose maybe just to demonstrate to your boss that you know what you're doing? Think about it.
You won't necessarily say a single word about this during your presentation. But it ought to have consequences for the style and content.
And what does the audience want? 
Why would they come to listen to you? Are they looking for help in understanding something? Do they want to be inspired, motivated? Can you help them to solve a problem? Try to find out by asking them.
Jot down some thoughts, some key words. This might be really simple or you may not come up with anything very specific, but it should at least lead to some useful insights.
Second – what's your message?
In one simple, short sentence, what's the main point you're trying to make? You could call this the main message or the bottom-line: it's the "what is this really all about" thing.
What's important here is having a single message because, as I'm sure you realize, with more than one message your presentation will end up very messy. So if you find you have more than one, choose one.
Every slide you prepare should have its clear place in getting that message across. More than anything else, this should help you decide exactly what to include in your presentation.
Thirdly – what do you want to happen?
The third step involves deciding what you want the result of your presentation to be. What do you want your audience to do or think after they finish listening to you? Make sure you know what this is, but make sure that they know it too.
You'll have to be very clear and specific about it. And again, knowing this in advance will help you structure your presentation and every slide should help you take one more step towards getting that result.
This is particularly relevant if you are selling something in the broadest sense of the word or if you want to motivate people to a specific action
Maybe the only thing you want is for people to have understood your subject better, and it might be worth thinking about how you could confirm that.
Think about the result you want, and write it down
That's it. Now you know why you're giving the presentation!
As long as you have some discipline and don't change everything you just decided, you should produce a nice organized story.